The new eActros – charged & ready
Sustainable, future-oriented, driven by innovation and quiet: that's the first all-electric truck from Mercedes-Benz. But the eActros is more than just a truck. It is part of the integrated eActros solution which, in addition to the truck and its conventional services, also includes new eConsulting and innovative digital solutions – all of which bring us a little closer to the target of zero local emissions.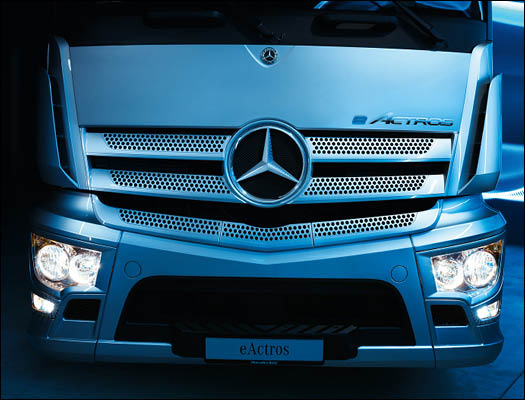 Assistance systems to improve safety
It goes without saying that the eActros comes as standard with proven assistance systems from Mercedes-Benz Trucks to assist drivers, especially in urban areas: from Stability Control Assist, Lane Keeping Assist, Attention Assist and Sideguard Assist to Active Brake Assist 5, tyre pressure monitoring and Roll Control Assist.6 The cab will also be equipped with a new fire detection and alarm system with which drivers can be warned in good time of an emergency. Because we want to make heavy, urban short-radius distribution safe and efficient.
New driving and work performance
The special Mercedes-Benz electric axle with two motors, continuous output of 330 kW and maximum output of 400 kW provide for immediate and powerful acceleration. This incredible driving experience is supported by a two-speed transmission and a low centre of gravity.
Thanks to the Multimedia Cockpit and the MirrorCam as standard features, a particularly low noise level in the cab and low vibration (as there is no engine under the cab), driving and working in the eActros are made as relaxing and stress-free as possible.