eEconic. In charge for a new era.

Fully electric in town and city.
Towns are growing, placing ever increasing demands on mobility, logistics, the environment and quality of life. Our answer to this is an electric commercial vehicle which can meet these challenges, which is powerful and efficient whilst also being able to increase safety for all road users. It also delivers sustainable solutions to the growing emissions burden in urban areas. With its fully electric drive system, the eEconic represents the logical development of the trusted Econic and is the perfect vehicle choice for your municipal operations in the urban environment.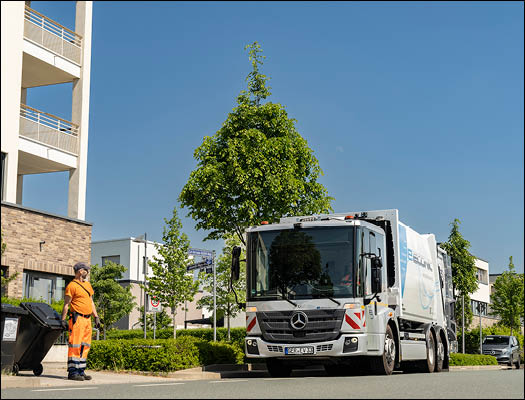 Electrifying drive technology.
With ePowertrain, featuring the unique Mercedes-Benz eAxle with twin electric motors, the eEconic has higher motor efficiency with energy recuperation when braking compared with a conventional diesel drive: perfect for stop-and-go for municipal use. The locally emission- free drive enables easy access to all green zones – and it is so quiet that the eEconic is often permitted to operate at night. The short charging times can be ideally planned for stops at the depot. Capable of continuous charging at 160 kW, the eEconic batteries can be rapidly charged from 20–80 % in just over one hour.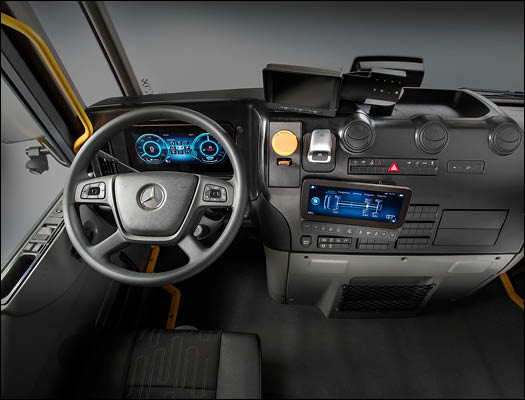 Outstanding safety concept.
In terms of anticipatory driving and prevention, the eEconic is a decisive step ahead of conventional trucks. Its low seating position puts the driver at eye-level with other roads users and the panoramic glazing of the up-to five-star DirectVision cab provides a great view. In addition, the eEconic can be equipped with as many as ten safety assistance systems including Active Brake Assist 5, Sideguard Assist and the Blind spot camera system. With the aid of cameras, sensors and additional lighting systems, the driver can concentrate on the most important tasks – even in situations which require utmost concentration: in lively city traffic, when turning, manoeuvring and reversing. In the event of an accident occurring, an on-board safety system protects high-voltage components.

Integrated Solution
Mercedes-Benz will accompany you step by step on your way to eMobility: even before you purchase your battery-driven truck, we will support you with a transparent assessment of whether your depots and routes are suitable for electrification including an analysis of suitable charging infrastructure, what costs are linked to it, and what subsidies are possible.

Our dedicated financial services provider, Daimler Truck Financial Services, offer holistic funding solutions to support your transition to eMobility, inclusive of vehicle, repair and maintenance and charging infrastructure. If desired, we can assist you with special eTrainings for fleet managers, drivers and workshop staff – so that your switch to future-oriented technology goes easily and smoothly.

Servicing and Warranty
As standard, the eEconic is supplied with a 3-year/40,000kmpa Integrated Service Package. For added assurance, the eEconic includes as standard a 36 months or 160,000km* bumper to bumper warranty, a 36 months or 250,000km, 1,200 charging cycles from delivery* ePowertrain warranty and a 72 months, 360,000km, 1,800 charging cycles from delivery* HV battery warranty.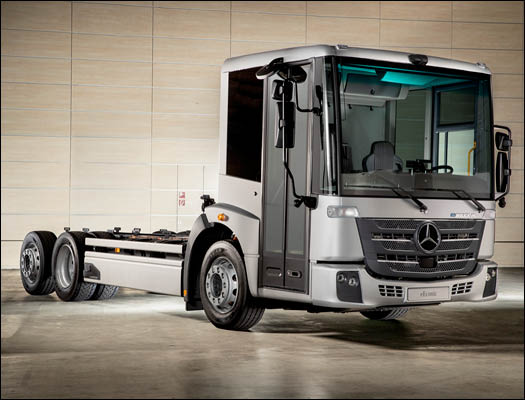 Terms
*whichever occurs first

Number of charging cycles: For the calculation of equivalent full cycles, the energy flow of charging and discharging processes is added together. An equivalent full cycle corresponds to twice the nominal energy of a high-voltage battery.

Warranty is applied for the high-voltage battery if the state of health (SoH) falls below 80%. The state of health (SoH) percentage is the ratio between the current capacity of a battery and the capacity of a new battery. The customer can read out the value in the Mercedes-Benz Uptime Portal. The data can also be accessed via Xentry diagnosis. Important note: Delivery is understood here to refer to the date of delivery to the customer (usually the date of initial vehicle registration or the in-service date). The warranty period starts on the registration or in-service date, but no later than 18 months after dispatch of the delivery object from the manufacturer plant. For commercial customers, product liability claims are restricted after the first year to rectification work; more extensive claims (e.g. withdrawal from or cancellation of purchase contract) are excluded.