Efficient electric drive, combined with proven vehicle strengths.
Change the game with the all-new eVito. Designed to keep business moving into a sustainable future.
Our new eVito raises the standard for the mid-size electric market once again, with a game-changing WLTP combined range of 162 miles and rapid DC charging of up to 80% in 35 minutes. It also has enhanced connectivity and safety features, and is eligible for the government OZEV grant of up to 35% of the purchase price up to a maximum of £5,000**.
The eVito is available in long wheelbase only. With its cargo volume of 6.0 m3 you have no restrictions due to the electric drive. The payload is up to 1,015 kg.
The eVito panel van is recommended if your vehicle is mainly on the road in city traffic or running scheduled, recurring routes. The eVito panel van is suitable for all sectors and applications, once the range and charging requirements are taken into account.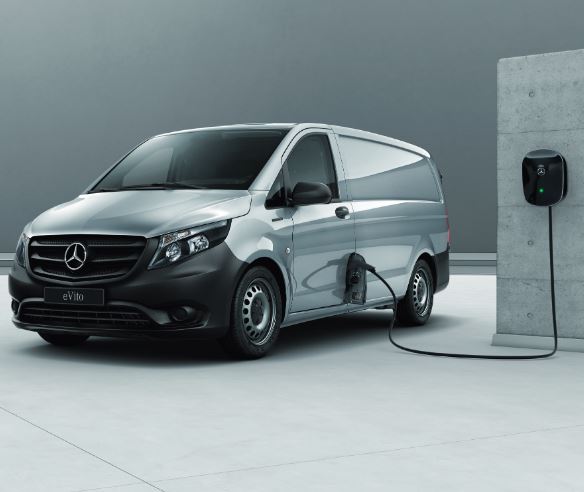 Highlights.
Electric drive - can also advance you economically. The switch to eVito can pay off.
Our vans with electric drive can also convince you economically. Depending on the profile of use, the electric drive can already be at the level of vehicles with an internal combustion engine in terms of the total cost of ownership (TCO).
The intelligent operating strategy of vans with electric drive contributes to economy on the road. With 3 driving programs and 4 recuperation levels you can optimize the power consumption and thus the range of your electric powered van. Recuperation recovers energy when the vehicle is decelerating. For example, the battery charges on downhill, instead of losing the energy in the form of heat when braking. That's how you can go far with Mercedes-Benz electric powered vans - on the road as well as in your company.
Its load volume has weight.
The eVito panel van takes alot on board. The eVito is a professional for demanding tasks and ideally suited to represent companies. Its specialty is volume of cargo: with a loading space capacity of 6.0 m3 and up to 1,015 kg, the electric drive does not restrict the cargo space volume in any way.
But mass is not everything: the eVito panel van can also be loaded very well due to its large load compartment openings and low loading sill. With the sliding door on the left & right, there are 3 accesses to the cargo hold, through which, for example, up to 3 europallets can be loaded.