Mercedes-Benz commercial vehicle dealership Midlands Truck & Van welcomed a party of local students to its Birmingham site, to give the budding business stars of the future a true taste of the world of work.
The 20 guests from Halesowen College were treated to a tour of the dealer's Smethwick depot and an intensive coaching session from Directors Alex Hillman and Michael Carolan – as well as lunch and a 'goody bag' of Mercedes-Benz branded merchandise – during their three-hour visit.
They came away with a deeper understanding of the way a large, modern business operates, and the importance placed upon staff training and development, while also learning more about potential routes into a range of careers which all offer ample opportunities for success.
The point was driven home by Alex and Michael – who revealed they had both started as trainees before working their way through the ranks to reach Director level, with responsibility for large departments and budgets and a say in the strategic leadership of the business.
"We're always on the lookout for bright, enthusiastic, hard-working people to join our organisation and help move us forward," said Alex.
"We take apprentices of various ages across a range of disciplines," added Michael. "There are some basic requirements but perhaps even more important is a person's dedication and drive to succeed both personally, and for the wider business."
The visit was an eye-opener for the students attending. All came away with a deeper understanding of the business-to-business nature of commercial vehicle sales and the fact that careers which start on the first rung of the ladder can reach all the way to the top.
"I didn't realise there were so many different specialisms within a vehicle dealership," said 17-year-old Pavlos Siskamanis. "It's not just sales people, there are technicians too but also administrators, marketing experts, accounts staff and others."
"The emphasis they put on training and development of staff is really impressive," said Ethan Odulate, also aged 17. "It's clear that a Mercedes-Benz apprenticeship is a pathway to a long career with the opportunity to reach senior positions," agreed 18-year-old Adnan Saeed.
If the students needed examples of how Midlands Truck & Van helps its staff to continue to learn and grow, Alex and Michael were the perfect illustrations. Despite having already reached Director level, both recently went back to the classrooms of Halesowen College to study and attain – with Distinction – their HNC qualifications in Business Management.
"We both felt that we'd learned a great deal on the course but, just like in the workplace, training is a two-way street – both students and those guiding them can always gain from the experience," said Alex.
"For that reason, and because Midlands Truck & Van has a strong philosophy of always trying to give back something to the communities in which our depots are based, Michael and I felt strongly that we'd like to invite Halesowen College's L3 BTEC Business Studies students to experience our workplace for themselves.
"Being told about how a large business operates is one thing, but seeing it with their own eyes will hopefully help these young people to understand better what they will need to bring to the table if they are to succeed in their own careers, in whatever industry they choose to enter. We wish them every success."
Halesowen Colleage Business Community Engagement Lead Kam Nijjar added: "Visits like this are invaluable – they really help to allow students to see for themselves what sort of opportunities are open to them, if they are prepared to work hard enough, and give them a motivational target to aim for.
"The information they can gather from visiting local businesses also feeds into the assignments that form a large part of their course, and should help give them the materials they need to attain the highest grades. We're extremely grateful to Alex, Michael and Midlands Truck & Van for giving our students this opportunity."
Midlands Truck & Van also has depots in Coventry and Wolverhampton. Across the three sites the company employs more than 300 people and sells approximately 3,000 new and used vehicles each year, generating an annual turnover well in excess of £120 million.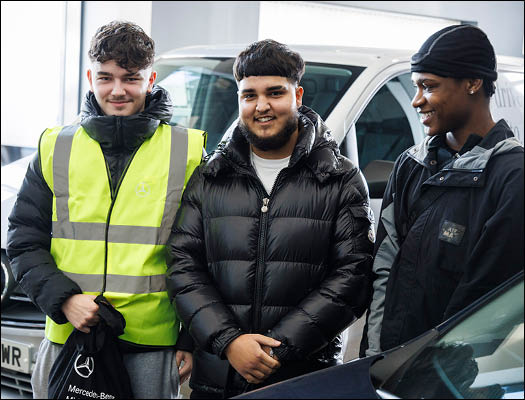 Positive experience: from left, Pavlos Siskamanis, Adnan Saeed and Ethan Odulate enjoyed their visit to Midlands Truck & Van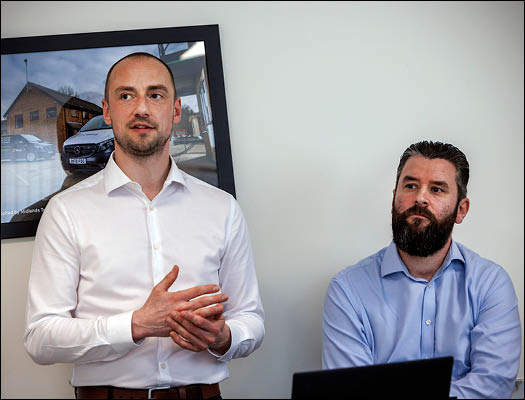 Giving back: Midlands Truck & Van Directors Alex Hilman (left) and Michael Carolan both studied at Halesowen College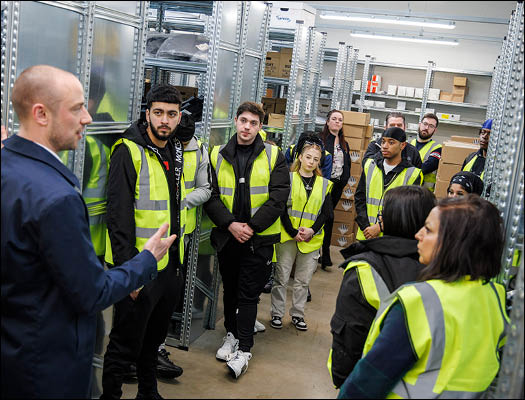 Tour of duty: Students were shown the dealerhip's extensive vehicle parts store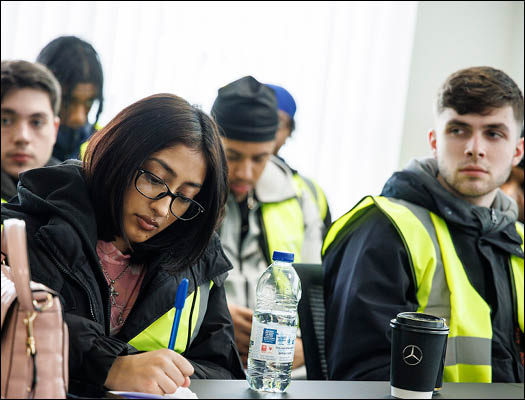 Note to self: students were offered a great deal of practical career advice