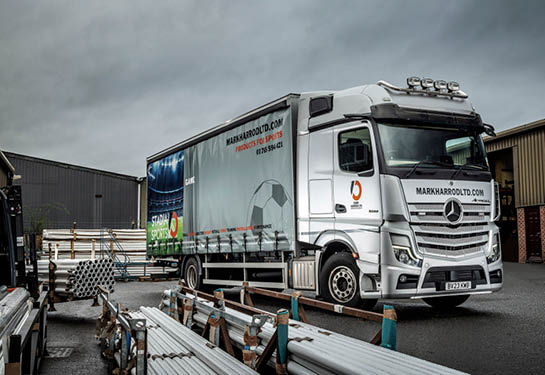 Mercedes-Benz Actros L hits the back of the net for Mark Harrod Ltd
Sports equipment supplier Mark Harrod Ltd is in the business of moving the goalposts but one thing remains constant – its goods are delivered in Mercedes-Benz trucks.
Now the Stafford-based operator has added a new star player to its line-up, in the shape of a stunning silver Mercedes-Benz Actros L 18-tonne curtainsider.
The 1833 model was supplied to Mark Harrod Ltd by Dealer Midlands Truck & Van. It has a luxuriously equipped BigSpace cab and is powered by a 240 kW (326 hp) 10.7-litre engine. Its body was fabricated by Commercial Body Specialists, of Stoke-on-Trent.
It joins a small fleet that also includes another Actros 18-tonne curtainsider, a pair of Mercedes-Benz Sprinter chassis cabs with platform bodies and three Sprinter vans.
"The new truck has taken its place at the head of our transport operation," said General Manager Mary Brandrick. "It's a moving advert for our business as well as a very serious workhorse, and certainly looks the part."
Mark Harrod Ltd manufactures a wide range of sports stadium equipment such as goal posts, team shelters and more, for disciplines including football, rugby, hockey and basketball. These are delivered to clients ranging from schools and grass-roots organisations to some of the biggest names in football's Premier League.
"Our deliveries are what I would call 'ugly freight'," said Mary Brandrick. "They are irregular shapes and sizes, and need to be handled by people who know what they're doing. This means using third-party hauliers isn't really an option, so we prefer to run our own trucks.
"The new Actros is already our vehicle of choice for the biggest deliveries and longest runs – especially if that involves going into London or other cities with clean air zones, where its Euro VI emissions standard helps protect us against unnecessary charges.
"Distances vary but the truck can often be out for three days at a time, making a number of drops. We think it's only fair to give our driver a comfortable living and working space, which is why we specified the Actros L BigSpace."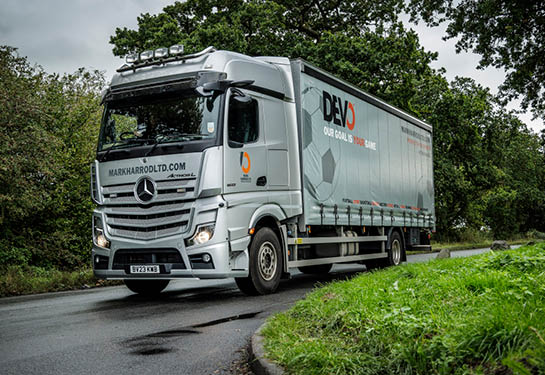 The Actros L range sets new standards in the segments for long-distance haulage and heavy-duty distribution. In addition to a full complement of well-proven Mercedes-Benz technology, it comes with a host of new features that deliver further improvements in efficiency, safety and comfort.
Highlights include sophisticated aerodynamics, quieter cabs with improved heat insulation, and a lower, more comfortable seating position that also provides improved visibility.
The Actros L badge now applies to all four- and six-wheeled tractor units with single or double drive axles, and 18- and 26-tonne rigid chassis, that have flat-floored GigaSpace, BigSpace or Stream Space cabs in the wider (2.5m) of the two widths available.
"Mercedes-Benz trucks have served us well and proved to offer a reliable and cost-effective package," Mrs Brandrick continued. "They're good on fuel, safe, robustly built and project a smart image. Sales Executive James McCarthy was very helpful throughout the ordering process and we're impressed by what we've seen of Midlands Truck & Van's service back-up too, so overall we think we've scored a winner with our new Actros."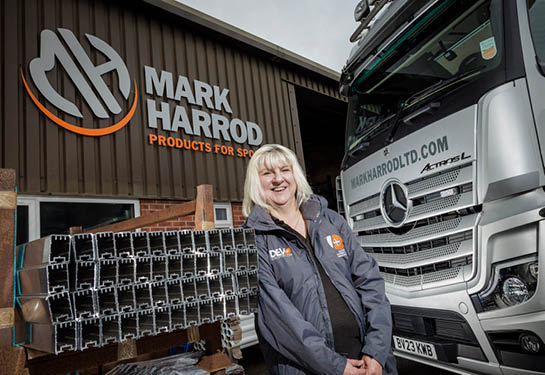 Net gains: Mary Brandrick says the Actros L is a winner on all fronts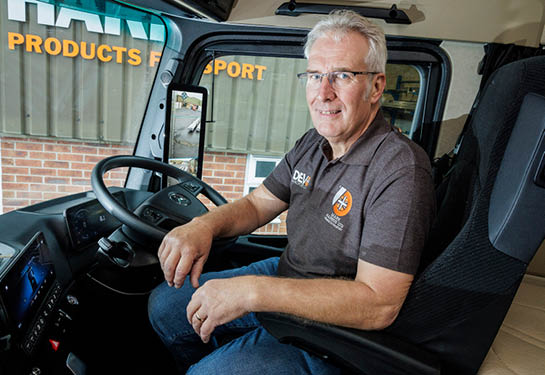 Point of view: Driver Michael Brandrick is impressed with the clear field of vision through his MirrorCam screens